I enjoy making my own animations.
Here are just a few.
I hope you enjoy them!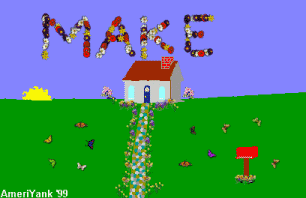 Click on the animation above to visit
AmeriYank's Holiday Place



graphics and animation by:
AmeriYank
Copyright 1997-2000, Mary Morris/AmeriYank. All rights reserved.
The animation and graphics on this page
were created with extensive use
of tubes in Paint Shop Pro.
Tubes used in house animation are:
Pink roses by Jenifour
Some butterflies by Jenifour
Pansies by Jinny Davis
Bunnies by PCCJess
Other butterflies and flowers by Jasc software